The Honorable Kambrell Houston Garvin
SC House of Representatives District 77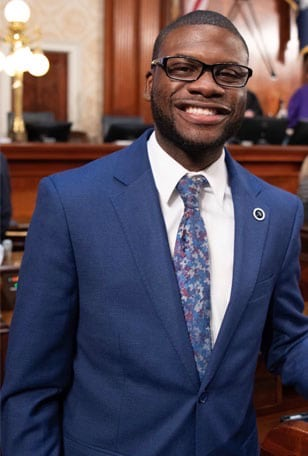 Kambrell Garvin was born and raised in Columbia by a single mom who instilled in him the importance of education, hard work, grit, and determination. At the age of 5, he was diagnosed with a speech impediment. It was then that his mom changed the trajectory of her career and pursued a career as a speech therapist to assist him in overcoming that challenge. As a result of her willingness to go above and beyond to assist him, today, Kambrell can speak clearly and confidently; turning what once was a weakness into strength and in the process, discovering the power of his voice.
Today, Kambrell lives in Blythewood with his wife, Monique, and their daughter Wrenley. As a State Representative for the community he grew up in, Kambrell has fought to expand Medicaid, reform our public education system, ease the burden of student loan debt on college graduates, and bring businesses to the Midlands.
At an early age, Kambrell used his voice to serve as an advocate to move his community forward. As a young community leader, Kambrell: organized his first voter registration campaign at the age of 10, led efforts that registered hundreds of new voters, and led various political and civic initiatives throughout the United States.
After graduating from A.C. Flora High School, Kambrell went on to earn a Bachelor of Arts in Political Science with minors in African American Studies and Sociology from Winthrop University in 2013; Masters of Science in Education from Johns Hopkins University School of Education in 2016; and his Juris Doctor from the University of South Carolina School of Law in 2019.
At Winthrop University, Kambrell served two terms as the Student Government President, ex-official member of the Board of Trustees, and voting member of the 10th Presidential Search and Selection Committee. He was named the recipient of Winthrop University's 2020 Outstanding Young Alumni Award.
A longtime equitable education advocate, Kambrell joined Teach for America, a non-profit organization dedicated to building the movement to eliminate educational inequity. He spent three years as a South Carolina public school teacher in Walterboro, SC, a rural community located along the I-95 corridor. As an educator, he used his voice and instilled in his students that they could achieve anything that they put their minds to and that their zip code would not limit their future success.
Inspired by the example of his grandfather, who fearlessly served as the first African-American on his local city council, Kambrell launched a grassroots campaign for the South Carolina House of Representatives. In 2018, at the age of 26, Kambrell was elected to the SC House – all while still in law school.
In 2022, at the age of 30, he launched the Kambrell Garvin Law Firm, LLC, a personal injury, medical malpractice, and municipal law firm. As a lawyer, Kambrell continues to be a voice for those most in need of an advocate in their pursuit of justice.
When Kambrell is not busy serving constituents or practicing law, he enjoys attending church, traveling, grilling, brewing and sampling craft beer, swimming, weightlifting, off-roading, and spending time with family.
"Excellence can be obtained if you care more than others think is wise, risk more than others think is safe, dream more than others think is practical and expect more than others think is possible." -Claude Bissell
Professional Affiliations
SC Association for Justice

SC Black Lawyers Association 

Richland County Bar Association

SC Bar 

NC Bar  
Community Affiliations
Member, First Nazareth Baptist Church 

Columbia Branch NAACP

Alpha Phi Alpha Fraternity, Inc.

SC Education Association
Legislative Affiliations 
SC Lawyer-Legislator

SC House Democratic Caucus 

Vice Chair, Richland County Legislative Delegation (2020-Present)

Parliamentarian, SC Legislative Black Caucus (2020-Present)

Legislative Oversight Committee (2020-Present)

Agricultural Natural Resources and Environmental Affairs Committee (2020-Present)

Medical, Military, Public and Municipal Affairs Committee (2018-2020)

Interstate Cooperation Committee (2018-2020)

Covid-19 Employment, Workforce and Business Recovery Committee (2020)
Articles